This shop has been compensated by Collective Bias, Inc. and its advertiser. All opinions are mine alone. #AdvilRelief #CollectiveBias
It's been almost two weeks since Adam and I got married, can you believe it? About this time two weeks ago, I was freaking. out. Not about getting married, just about all the little logistics. I had been running around doing all these last minute things, most importantly putting together my wedding clutch.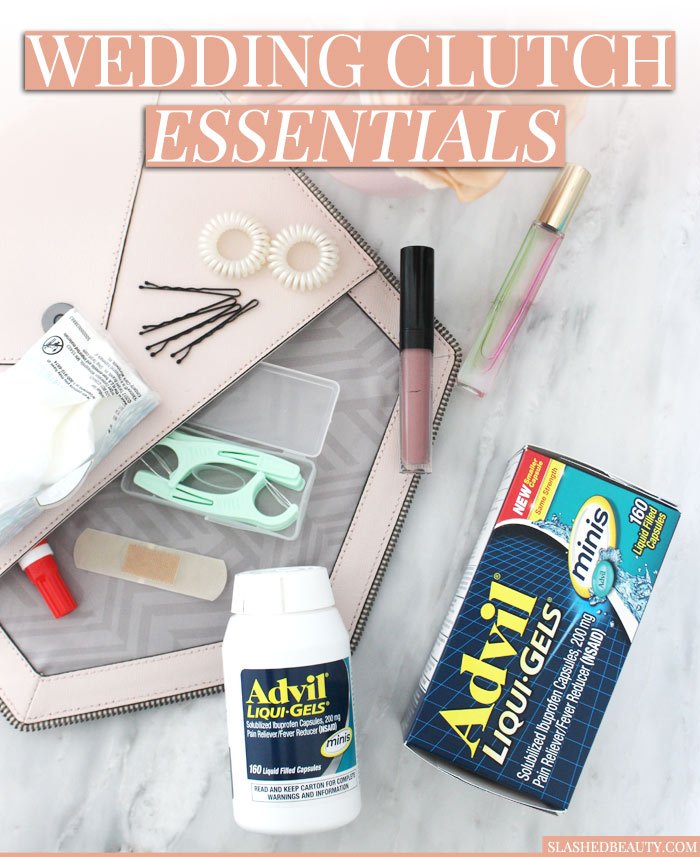 Now, I was super stoked about the fact that my wedding dress had pockets. But, I didn't want to weigh myself down too much beyond my phone and a few loose emergency tissues. I decided that I would be keeping all of my wedding day essentials in a clutch to carry with me and set down at the sweetheart table.
On a day that's so jam packed with socializing, dancing, crying, and taking photos, you know I wasn't going to be caught without my go-tos for looking and feeling my best all night. Take a peek inside my wedding clutch essentials for ideas and tips to help you on your own big day!
1. Advil® Liqui-Gels® minis
From headaches to throbbing feet— you'll be glad you packed these little lifesavers! Not only did Adam throw out his back a few days before the wedding, but I was due to get my period on my wedding day (and yep, it happened. But after the wedding, so it was fine). We both needed something to stay comfortable. All the power of the normal Advil® Liqui-Gels®, these pain relievers now come in a 33% smaller pill which makes it easier to swallow and pack in small spaces. Among other over the counter pain relievers, these hands down work the fastest on me. I grabbed a 160 count, because I knew I wasn't going to be the only person who needed a few throughout the night. Check out this product on Target.com.
2. Tissues
This is pretty self explanatory. Emotions run high at weddings. Don't be caught without tissues.
3. Portable Charger
While I wasn't planning on fielding too many calls and texts on the big day, I still got a lot of well wishes on my cell, which was draining my battery quickly. I was also keeping it closeby for impromptu selfie opportunities. We set up a custom Snaphat filter for our wedding, and I wanted to make the most of it! The portable charger was a lifesaver when I was already at 33% before the ceremony even started!
4. Lipstick of the Night
While I made sure to wear a long-lasting lipstick, I definitely wanted to keep it on hand for any needed touch-ups. Especially with those endlessly clinking glasses and the inevitable newly-wed smooches, I didn't want any smudges or fading… plus, we took so many kissing photos that I needed to dab a little more color on before the reception. (FYI I didn't use the lipstick pictured on the big day… I left that one at the venue. 🙁 )
5. Hair Ties & Bobby Pins
I wore my hair down in curls for my wedding, but I knew that as the night went on, I was probably going to want to get it out of my face and off my neck. Even if you already have an updo, though, extra pins will help extend the style after you start shakin' it on the dance floor.
6. Perfume Rollerball
They say that scent is the sense with the strongest connection with memory, which is why people choose special fragrances for their wedding day. I actually let Adam pick my wedding perfume, and I threw the rollerball in my clutch for easy access. A sample spritzer would also be convenient size-wise.
7. Bandages
If you get any unexpected cuts, you'll want to get it bandaged up ASAP so no spots get on the layers of white you'll be in. Be sure to grab the sheer kind, so if it needs to be applied in a visible area, it doesn't stand out as much. I was so glad I had these toward the end of the night, when my shoes had done some damage to the back of my ankles.
8. Floss Picks
This might seem weird, but keeping floss in your wedding clutch can save you from any embarrassing moments after dinner. I ordered the steak at my wedding, and these worked perfectly to keep my meal out of my teeth for photos! I like the little pick kind that I can throw into my bag and use as needed.
9. Stain Pen
Wearing a white dress is stressful, because even the smallest stains stand out. Keeping a stain pen in your clutch will surely save the day in a crisis and keep your dress pristine. Just be sure it's a fresh one (as in a brand new one for the night) so that it doesn't have any residue from past uses on the tip. I actually ended up using this on my rehearsal dinner dress when I got a drop of red wine on it. Worked like a charm!
10. Remover-Soaked Cotton Swabs
This is a trick I learned back when I went to prom in high school, and yep— I did it again for my wedding! Take a few cotton swabs and soak them in makeup remover. Tie them up securely in a ziplock bag (I double secure mine with a rubber band). These come in handy when you need to clean up any makeup smudges, especially around the eyes and lips. You know, just in case that waterproof mascara wasn't all that waterproof after all.
I made things easy on myself by picking everything up in one fell swoop at Target on our way to Bass Lake. Since I was in a time crunch, and had to drive about an hour and a half from the main city to get to our venue, it was nice to have a one-stop shop with everything I needed. And yes, I may have opened the bottle of Advil® Liqui-Gel® Minis a little early during the last minute prep 🙂
What wedding clutch essentials are you packing?
Use as directed
©2017 Pfizer Inc.
LIQUI-GELS® is a trademark or registered trademark of Catalent Pharma Solutions.