Every fashionista knows that there is no such thing as overpacking when it comes to taking a vacation. We need several outfit options per day and we need a week full of makeup looks, and we most certainly need to keep it all organized so nothing misses the trip home. Our bags become our best friends and partners in crime to help us get where we're going in style.
With three international trips under my belt in the past three years, and another one coming up in a few weeks, I've developed an eye for what makes a good travel companion in a bag. Packing is the absolute bane of my existence, I usually save it for the very last minute, but these travel bags have made it enjoyable and easy, since I don't have to be selective in what I bring with me.
Click through the slides to see my favorite travel bags!
This is the makeup bag fit for a beauty blogger. The Kusshi, which exceeded its $40,000 goal on Kickstarter, answers all of our traveling makeup prayers. This large, spacious bag is cleverly designed to hold a ton of bulky items (no more decanting foundation! YESS!) with clever breathable mesh pockets (great for makeup sponges that need to dry) and big enough for full sized eyelash curlers, and zip pockets for smaller items like tweezers or nail files.
My favorite part? This bag comes with a designated brush holder that can house 11 items (whether they be brushes, lipglosses, whatever), and can snap into the interior of the Kusshi bag. Want the extra space for even more makeup? No problem. It comes with an extra cover you can snap the brush holder into instead and fold up separately from the bag.
I love that the bags can lay completely flat, so I can grab exactly what I'm looking for without much rustling around. The material is durable and washable, and elegant enough to use as an evening clutch— you know me and my double duty products. LOVE!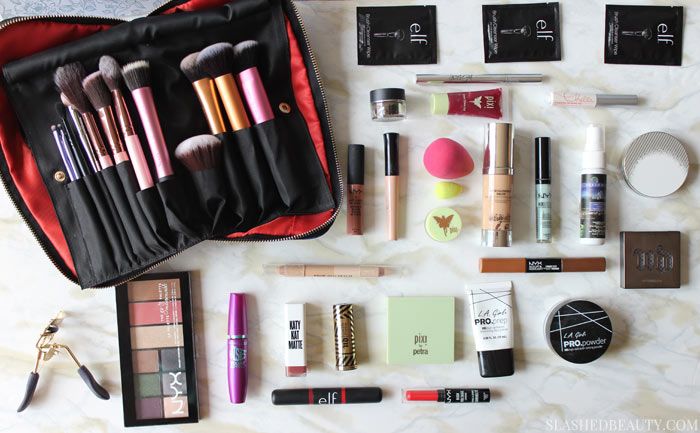 Inside I was able to fit twelve brushes, three brush cleaning wipes, a brow cream, a cheek gel, liquid eyeliner, brow gel, five lipsticks, eye primer, two sponges, two concealers, foundation, setting spray, cream contour, highlighting powder, blush, setting powder, primer, bronzer, mascara, an eyeshadow palette and a pair of eyelash curlers.
You can back the Kusshi Kickstarter and get special pricing on the first bags they make.
NEXT: TravelWise Packing Cube System
These have been heaven-sent in making packing feel like a breeze, and have been key in helping me stay organized and stylish throughout my trip. When packing smart, you can really set yourself up for a great vacation.
What helps you pack for vacation smarter?